Go To Blog

Blog
Ceymplon at CS-Career Fair'19!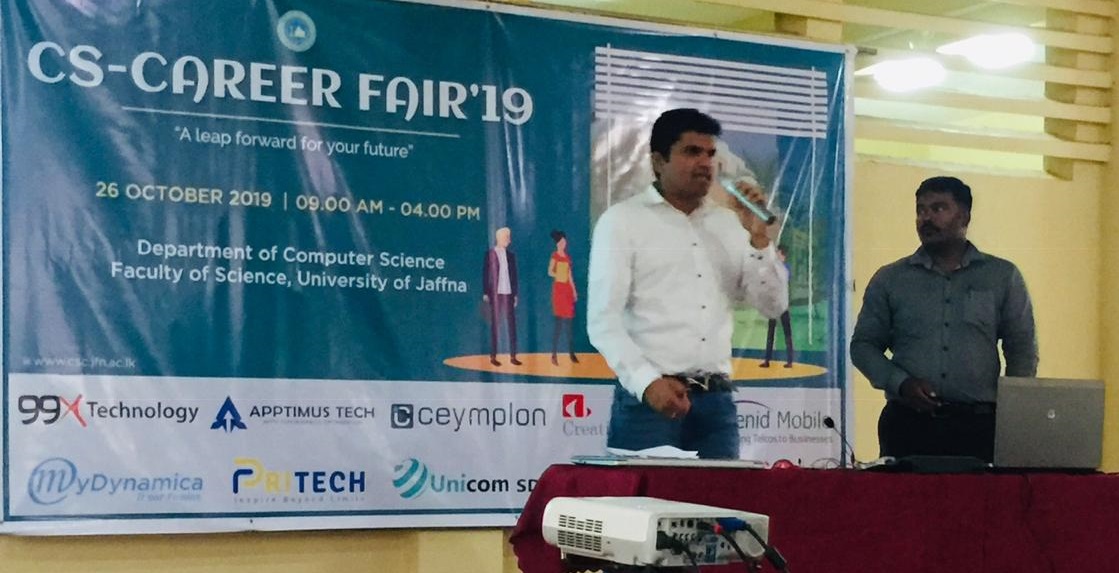 We were greatly honoured and pleased to provide our assistance to the Department of Computer Science (DoCS) of the Faculty of Science (FoS) of the University of Jaffna (UoJ), Sri Lanka for organizing, and conducting the CS-Career Fair'19 for their students.
The career fair was conducted on Sat 26 Oct 2019 at the main campus. The objectives of the career fair were to bring prospective employers at one place and provide chance for their students to interact with the employers, and explore their future employment opportunities, and to provide the students in their third year with an excellent opportunity to secure an industrial placement for a period of 4-6 months training expected to commence from 1 Dec 2019.
Prof J P Jeyadevan, the Dean of the FoS, Dr A Ramanan, the Head and Senior Lecturer of the DoCS, and Dr K Thabotharan, the Senior Lecturer of the DoCS had attended the event, and delivered their speech.
On our side, Mr Senthuran Thiruchchenthuran, the Chief Finance Officer, Mr Vyramuthu Miralan, the Product Manager, Mr Sivabalan Sivaruban, the Business Development & Operations Manager, Mr Sivanathan James Kirubananda, the Customer Experience Manager, Mr Parthiban Wignarajah, the Senior Quality Assurance Engineer, the Software Engineer, Mr Kogul Vimaleswaran, and Mr Archulan Rajakumaran, the Software Engineering intern have attended the event. Mr Thiruchchenthuran delivered the presentation during the spotlight sessions.
Nearly, 100 students attended the event, including the students from the fourth year and third year, we interviewed 36 students among them.
Our internship programme offers a hands-on experience to students who follow a degree or higher diploma programme in computer science, management information systems, or a related technical or business field.
Working with a team of a technically advanced global organization, using leading-edge systems and tools to create innovative solutions, the interns can grow their skills in areas such as PHP, .NET, K2, Power Toolz, etc.
Are interested to experience with our service? For more information, please visit us at https://www.ceymplon.lk/service/training/internship